1955 Studebaker President Speedster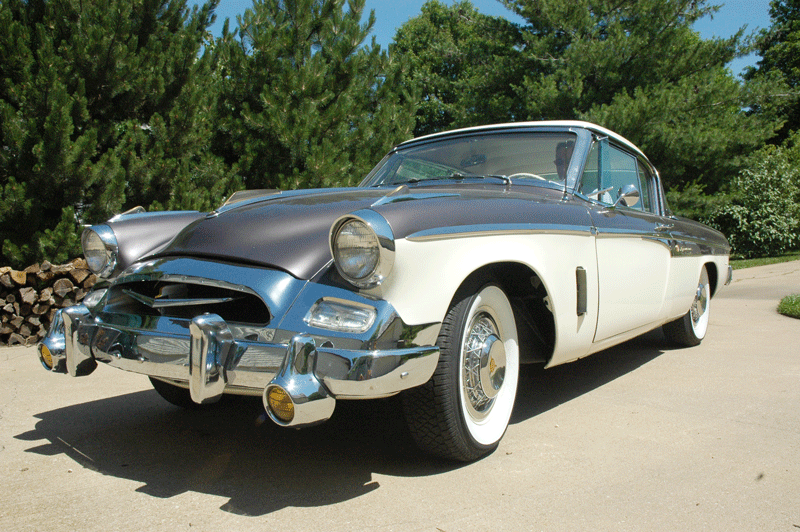 Click photo for larger image.
More photos here.
Studebaker's luxury sport coupe for 1955
Very rare--only built one year
Only 2000+ sold!
UPDATE: This car went to a good owner in Chicago and scored 389 out of 400 points in its first show out.

This car runs, drives and handles like a new car. You can drive it anywhere, anytime. Just get in and GO!
At the June 2007 Studebaker International Show, South Bend, Indiana,, this car received a First Place award in its class and 384 out of 400 points in the Concours judging. I have the judging sheet and corrections (all minor) have been made.
Based on the famous Loewy coupe design of 1953. This design has been called one of the most beautiful cars ever.
Features:


Full leather interior


Rear-seat lighting and arm rests


Engine-turned dash


Stewart-Warner Gauges including Tachometer, clock, push-button radio, heater and defroster


Power Steering


Power Brakes


Automatic Transmission


Large V8 with 4 bbl carburetor


Fog lights and backup lights


Driver and passenger outside rear view mirrors.

All polished stainless steel and chrome trim (and there is a lot of it!) has been re-plated/re-polished to better than new condition.
Interior:

Seats, carpet, headliner, door and kick panels, sun visors and package tray, have been replaced with 100% correct leather/heavy-cord stitching, very difficult to find and duplicate.

Rust-free car with complete frame-up restoration back to better than OEM condition


Less than 3000 miles since completion in the spring of 2007


Repaired and refinished original parts when possible or used NOS parts where available. Reproduction parts have been used when nothing else was available.


Seat belts front and rear were added.


All drive line components have been rebuilt and refinished.


The entire brake system was replaced.


All hoses and rubber on the entire care were replaced.


The fuel lines were replaced and the fuel tank has been cleaned and lined.


The body has been repainted to the original color scheme (Pimlico Grey/Ivory)using modern base-clear PPG products.


The final paint has been color-sanded and polished to a flawless finish.


Tires are brand new P215 70 R15 wide-whitewall radials.


The entire front and rear suspension has been rebuilt with all new components including kingpins, tie rods, bushings and leaf springs.