Commissions are archival inkjet prints on Arches 120 lb. watercolor paper.
Mounted on Masonite. Contact WCrosby.com for pricing.
All images © WCrosby.com.
Interested in a Large Scale Commission?
Contact WCrosby.com.

Large Scale Commissioned Illustrations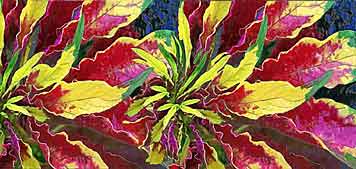 This 48" x 96" panel was the first large scale commission from the Art From the Garden Series. Completed in 2001, it started out as a digital photo of a plant in my garden, a variety of Ameranth. These plants are sometimes called Joseph's Coat, as in Coat of Many Colors.